HOLDIN' ON
I felt myself slipping away, but I fought back from near-death, and I'm proud to be singing the blues again!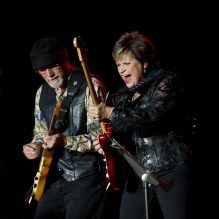 Over the years I've performed in clubs and theaters across the country, from coast to coast. I was on the "Nashville Now" show several times, and I enjoyed my time with Garrison Keillor, as a guest on "A Prairie Home Companion." I've performed live in the studio at many radio stations, including some NPR stations. I did several shows for a fundraiser for the earthquake/tsunami victims in Japan, and helped to raise money in Mexico for a special needs school. I've also performed in Germany, Italy, Norway and The Netherlands. Every moment I'm on stage, I know I'm where God wants me to be, sharing the gift of music.
Songs that I've written have landed on Grammy®-nominated albums, including two on Koko Taylor's last two albums. Other artists have recorded my songs, including the legendary Dorothy Moore. I've had some air on the Children's Miracle Network, Nick at Nite, ABC Family, the El Ray Network, and on NBC's "Chicago P.D." And I placed 5 songs in a movie that aired on Amazon Prime. Songwriting has always come easy to me, and it's part of the joy of being in the music business. 
In early 2011, I was gearing up for my "Lip Service" album to be released. My friends and I were in Memphis in early May, at the Blues Music Awards. There had been flooding in Memphis, but the hotel and convention center where the awards show was being held weren't affected. So it was business as usual. 
We always have fun every year when we go to Memphis. We'd been attending the awards show for nearly 20 years, and it's always like a great big worldwide family reunion. I've been nominated for a BMA several times, but regardless of whether or not I'm nominated, I love going and spending time with my fellow blues lovers. We had a ball in 2011, visiting with friends, eating good barbecue, and hearing great music. 
A week or so after I got back home, I started having headaches. I have a high tolerance for pain, so I just kept taking over-the-counter pain medication. But day after day, the pain didn't subside. It only got worse. It got to the point I couldn't sleep at all, because the pain was just too intense. Then that Saturday morning, when my mama and brother saw me, they knew something was terribly wrong. 
When I tried to walk into the living room, I ran into the wall. I stumbled over my words, and couldn't call my brother's name. Afraid I was having a stroke, they got me in the car, and headed straight to the hospital. Somehow my brother knew that the small-town hospital where we live wouldn't be the best choice. So he opted to make the hour drive to the Medical Center in Macon.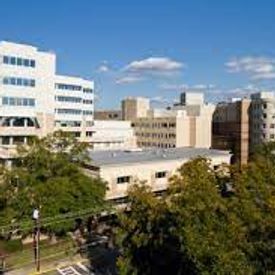 A team of specialists was immediately assigned to my case, and soon they had the diagnosis – meningitis AND encephalitis. One of these can be serious, but with both, my chances of survival were slim. And the fact that it was viral instead of bacterial meant that there was no medicine that would help. We were told that we simply had to "let it run its course."
I felt myself slipping away. Able to form thoughts, but unable to communicate them was frustrating, and frightening. I could get a word or two out, but could tell that I wasn't making sense. I prayed. And my mama and brother prayed. And my friends prayed. The doctors didn't know if I would make it…
A lot of the next few weeks is a blur. But I do remember the doctors scrambling, trying to figure out how I got this often lethal combination of illnesses. The only thing that seemed to make sense was a mosquito bite. Was I bitten in Memphis, with flood waters all around us? We'll never know… 
Once I was released from the hospital, I could hardly walk without assistance, and a cane. I still struggled to get the words out, and my heart ached, wondering if I'd ever sing or play the guitar again. I prayed every day, as I had my entire life, and asked God to help me heal, if that was His will. 
I couldn't sleep in my bedroom, because the memories of the intense headache, and all I'd been through, haunted me there. I started sleeping in the guest bedroom. But sleep evaded me. My brain was forever altered by the illness, and I had to learn to do things all over again. I knew I had a computer in my office, but I had no idea how it worked. And I knew that the telephone would allow me to talk to people, but I didn't know how to dial it. And I knew that I used to do something with the guitar, but couldn't remember what that was. I knew what I knew, as well as what I didn't know. And that was frightening. Was the rest of my life going to be spent in this profound state of confusion?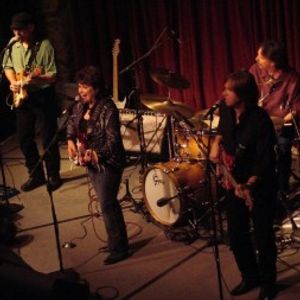 I continued to pray, and my family and friends prayed. I was determined to perform again. It was a slow process, but I fought my way back. And on June 30th I shared the stage with two other artists, who knew what I'd been through. It was a struggle, but with their support, I got through the night. In August, I was back on stage with my band, in a theater in Macon, for my CD release party. My band members, who are also very dear friends, were so incredibly supportive, and watched my every move. If they saw that I couldn't continue, they were prepared to take over. They know me, and they love me, and I love them more…
Signing autographs after the show was a major feat. No one knew that only a few months earlier, I couldn't even hold a pen, much less write my name. It was a miraculous night, and one I'll never forget. 
I still deal with some of the effects of the illness. According to Dr. H. Gordon Deen, a neurosurgery professor at the Mayo Clinic in Jacksonville, Florida, people who survive encephalitis frequently fight new battles as they try to resume their daily lives. "It's often a struggle, as they deal with residual effects of so-called acquired brain injury, such as those caused by a head injury, stroke, the cutoff of oxygen after cardiac arrest, inadvertent lead or mercury poisoning, or the effects of meningitis – another form of brain inflammation," Deen said. 
Dr. Arun Venkatesan, Director of the Johns Hopkins Encephalitis Center, said that I'm doing better than most survivors, because I have a passion for something, and that's my music.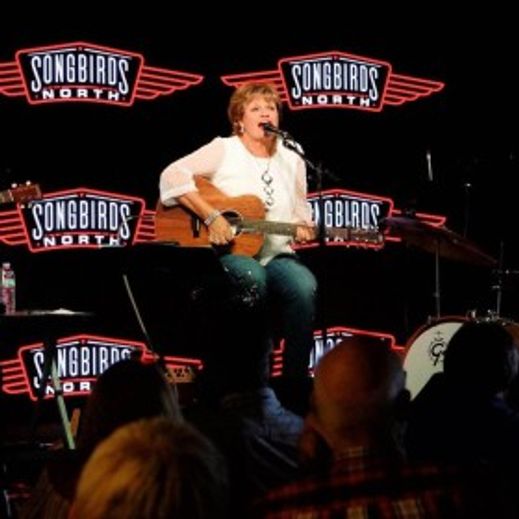 Most days are good, and I'm never more myself than when I'm on stage. But there are days when my brain is simply overworked, the neurofatigue sets in, and I need to rest. I've learned to pace myself. I'm grateful for the good days, and for my family and friends who've stood by me, and with me, as I journey through my recovery.
As I continued to heal, I wanted to write more songs. I wanted to share what I'd been through, in hopes of inspiring others who are dealing with something similar, or a struggle of any kind.
The first song I was able to write was "Holdin' On." Some of the lyrics are "When the sun came up and warmed my face / It felt so good to have another day / Now I'm holdin' on / Still holdin' on". 
(Video of me performing the song live at Douglas Corner with Etta and Bob Britt, and Dianne Davidson, and Ashley Levin with Conor McCarthy.)